Newest, beautiful, single women now added for week of Wednesday, 22 March, 2023 - Tuesday, 28 March, 2023
Your opportunities here are truly worldwide. Explore our site deeply to see how you can realize that!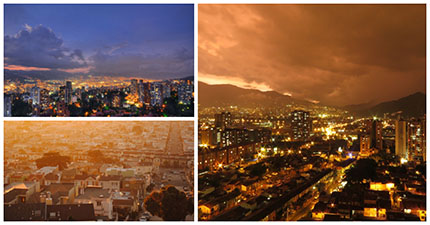 Romantic Colombian Cities | Where to Find Love in Colombia
It's no secret that Colombia has its own unique wonders. It boasts a unique and colorful culture and a wide array of beautiful tourist destinations scattered across different Colombian cities and towns. However, among the many beauties that this country has in store, Colombian women are on top of the list. Their irresistible charm and notable qualities --- kind, passionate, faithful and ideal homemakers --- have made them one of the most sought-after by men from all around the globe.
If you're planning to go to Colombia to find love, you surely won't go home empty-handed if you just know where to look. To help you narrow down your search radius, here are 4 Colombian cities where you'll likely find the most number of beautiful Colombian women:
Barranquilla

The fourth most populous city in Colombia is a place that most people overlook in their quest to find love. Although this is known to be the Golden Gate of Colombia, it is often not crowded with tourists as it is situated between Santa Marta and Cartagena (two of Colombia's most touristy cities). However, this city could just be your perfect destination if you're looking to stand out to local singles because you wouldn't have as stiff a competition as other cities.

Additionally, people here are cool and fun-loving; they are just down for anything. And although Colombian people are definitely known for their fun-loving nature, people here are extra, especially during the Carnaval de Barranquilla.

Cali

If dancing is one of your strongest suits, then Cali is definitely the place to go. Cali is known as the Salsa Capital of the World. Going out to the Salsa bars in this city will give you a chance to meet the love of your life. In fact, it is relatively easy to meet a Colombian woman here even if you are not good at dancing (but knowing how to salsa is no doubt an advantage). Since Colombianas love to dance, we couldn't think of a better place to start your love hunt from than a salsa bar in Cali.

Women from this city are pretty outgoing and they speak enough English to be able to communicate with you. Here, you're pretty much going to have fun while looking for a suitable Colombian partner.

Cartagena

When you are visiting a beach-filled city like Cartagena, you'd be hard-pressed not to come across a few hot Colombian girls. It's also worth noting that Cartagena locals are laid back and easy-going, which means that you wouldn't have a hard time socializing here. Meeting local singles in the city will be like a walk in the park because women here are pretty approachable. You also won't have any problem striking up a conversation because they speak good English.

Medellin

Medellin is probably one of the most recognizable cities of Colombia, especially for single men. Here, you'll get to see women who are drop-dead gorgeous and that is not even an exaggeration. You'll find the Latina beauty at its finest in this city --- curvaceous hourglass body with glowing tanned skin. They are also easy to talk to as they speak good English and are also very warm and welcoming. One thing about this city though is that you'll have yourself some competition.

You are not the only man who is looking forward to ending up with a Colombiana for the rest of his life. If you want to take your search to Medellin, you better come prepared with a few tricks up your sleeve because you won't have it easy here. But the extra amount of effort you'll have to exert is a small price to pay considering the kind of woman waiting for you at the finish line.
These Colombian cities will definitely give you different tastes of the dating scene in Colombia. Each city will introduce you to women with varied personalities but with the same notable qualtiies. Indeed, Colombia is a great place for single men and you are just on the right site to start your first step on a vacation that will potentially change your love life.
Newest, beautiful, single women now added for week of Wednesday, 22 March, 2023 - Tuesday, 28 March, 2023
You have to meet the women to marry them! What other international dating site offers you numerous opportunities to do that?