Newest, beautiful, single women now added for week of Wednesday, January 13, 2021 - Tuesday, January 19, 2021
During this COVID-19 crisis, be assured we are still working daily to ensure your success!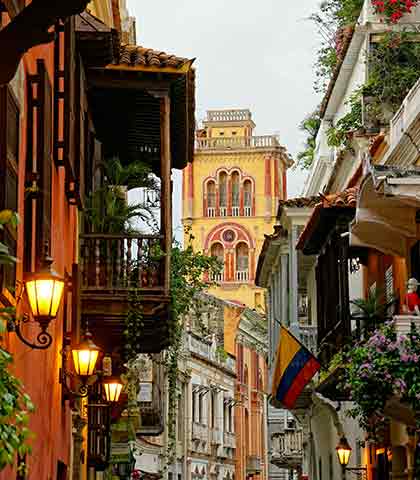 Things You'll Need for a GREAT Colombian Trip
Travel Checklist:
✔ extra clothes
✔ underwear
✔ slippers
✔ towel
✔ soap and shampoo
✔ toothbrush
✔ mobile gadgets
✔ chargers
Wait… did I forget anything?
This could have been your travel checklist before going on that Colombian trip you have planned for a long time already. This could have been the things you've packed in your travel bag. Isn't that right?
Well, going on an international trip surely gives you excitement. Knowing the thrill of going to a country with tons of beautiful Colombian women and Colombian cities around you is something that does not happen everyday.
One major challenge in going on a trip to Colombia is coming to a decision as to what to bring and how to stay organized as much as possible. As much as you'd want to, you certainly won't be able to bring everything you wish to.
So before boarding that plane with that ticket you've booked, know first on how to prepare for a trip to Colombia. Take a look at the following travel essentials that you should not forget:
Clothes

Clothes are something that no one forgets when traveling. The real question here is going to concern which types of clothes should you bring with you. Before visiting Colombia, be aware that the climate there can be hot as it can be.

You may see locals wearing the Colombia traditional dress in most parts of the country, and it can be pretty amusing.

Although there are times it can be quite cold, too. Well, you got the gist of it. When you are in Colombia, you will be needing clothes that are not too hot for the sunny weather, and not too stuffy for the cold nights.

In simpler terms, bring with you the following:

Jacket
Pants (short, long, hiking -- optional)
Loose and airy shirts and blouses
Light sweater
Scarf
Pair of socks
Hat or cap
Bathing suit
Underwear (mostly from light materials)

Do take note that you have to cope on what to wear in Colombia in December. It may be hot on most days of the year, but the temperatures drop in Colombia around this month.

Footwear

Now that you have the clothes to protect you from the weather, it is time to take into consideration the shoes that are going to take you places. Long flights may take up most of your time, and surely you would not want to be uncomfortable because of what you are walking with.

So when you are in Colombia, keep a pair or two for the following:

Slippers

Comfortable trainers

Most shoes and other types of footwear are bulky. So when you travel, try not to bring too many pairs that you are going to end up not using in order to save yourself from the hassle of packing them during the trip.

If you are someone who is fond of clubbing, bringing an extra pair to go with your getup is also advisable. But if you are not, then keep the ones which will be used by you most of the time.

Toiletries

Hygiene is not something that you should neglect when traveling, or when living in general. As you roam around different places and be with tons of people, always maintain your cleanliness.

Comfort rooms and showers may not be where you want them all the time, so to be safe, pack your own toiletries to be ready every time. It would be helpful to bring the items below:

Toothbrush
Toothpaste
Mouthwash (optional)
Hair brush
Hand and body soap
Shampoo and conditioner
Deodorant
Sunscreen (for the hot sun)
Travel towel (handy and not too thick)
Lotion and moisturizer (repellants are good too)
Hand sanitizer or alcohol
Tissue

When you have all of these in your travel sized bags, nothing could go wrong. Who knows? You might be able to meet a wonderful Colombian woman!

Honorable mentions

You may now think that you are all set for your trip since you have the clothes to wear and the shoes to walk with plus the toiletries to keep you clean all in your bag.

However, there are still quite a few things without which your bags are not fully packed. Aside from the basics -- clothes, foot wear, and toiletries, the following below should not be forgotten:

Packing cubes

It may seem that the things you'll be bringing can be quite a lot. You may start to worry about how to make your stuff organized and presentable in a good way. For those of you who wish to avoid clutter, then packing cubes are here to save the day.

These are small bags and pouches that come in different sizes and can house stuff for each different purpose you may want it to. You can arrange all of these neatly in your bags and won't be ever confused on where you placed your precious items.

Shoe bag

Bringing a shoe bag with you can help in preventing the dirt in touching with the things that you want to keep clean. It protects your personal belongings from catching the dust and filth that may be coming from your shoes.

Laundry soap

One of the hassles in traveling is keeping the laundry clean. While getting to places that you only see in pictures, basically you are going to find it bothersome to stop the fun and sit in the laundry room for a few hours.

As much as you dread this activity, there is no option left for you to do but to sit and launder your clothes. As such, do not forget to bring detergent and laundry soap to give yourself a clean fresh set of clothes.
Being a Scout While Having Fun
There is nothing wrong with indulging yourself with all the fun things you can do especially while traveling. It is essential to make the most out of the trip you have given yourself and to make the most unforgettable memories while you still can.
But one thing you have to achieve is for you to be a scout when in another country. Be ready for whichever incidents may come your way on your Colombian trip. As traveling is something that can be spontaneous, you shouldn't be.
Newest, beautiful, single women now added for week of Wednesday, January 13, 2021 - Tuesday, January 19, 2021
You have to meet the women to marry them! We have group singles tours departing nearly every month!